Is the metaverse the future of digital businesses?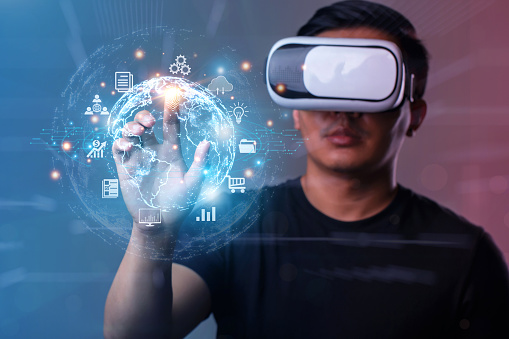 Many experts already say yes, the metaverse is the future. According to a study by the U.S. consulting firm Morgan Stanley, it is estimated that by 2030 the metaverse will account for 10% of luxury sales, around 50 billion euros. However, the metaverse still seems to be something very new and is just starting to be talked about now.
What exactly is the metaverse? It is a persistent and shared 3D virtual space linked to a perceived virtual universe. In other words, the metaverse is a virtual world where people can work, play and socialize. It is the latest evolution of interpersonal communications.
Its impact may be so great in the future that some companies are already beginning to show us real cases of introductions to the world of the metaverse. This is the case of Facebook, which is developing its own metaverse and has just renamed the famous social network META; Nvidia, which is working on its Omniverse platform to connect these virtual worlds; or Microsoft, which is working on a Teams add-on to be launched in 2022 that will allow the use of avatars in our meetings, among other innovations.
So, what are the opportunities of the metaverse for companies?
Remote work: work will also increasingly move to the metaverse, from meetings to simulations to training. Facebook Horizon's Workrooms – with its Oculus goggles – is working on offering workers new ways to collaborate online in virtual reality spaces.
Event and concert sponsorship: Fortnite recently hosted a major performance by rap artist Travis Scott and Massive Attack headlined a music festival hosted by Minecraft.
Manufacturing process: Anheuser-Busch, the world's largest brewer, is using metaverse applications to dramatically improve its operations. They used Azure Digital Twins to create a complete digital model of their breweries and supply chain that synchronizes in real-time with the physical environment. The model allows brewmasters to adjust the brewing process and perform quality checks.
Digital Twins: 3D digital twin technology creates a virtual, dimensionally accurate, immersive 3D model of any building or space. This changes the way businesses and consumers experience, interact with, understand and analyze the built world.
In short, the metaverse brings us ever closer to a fully simulated virtual reality, offering fully connected, immersive and engaging 3D experiences and presenting new opportunities for consumers and businesses alike. Together with extended reality technologies including virtual reality (VR) and augmented reality (AR), the digital twins are evolving to provide a next-generation Internet that overlays our physical world, a metaverse.