The world's biggest congress on Digital Business
Get inspired to move your business to the next level
This year at Digital Business World Congress we will host +450 international speakers, who will present success stories, and new business models, and discuss leadership issues and digital strategies implementation. In total, Digital Business World Congress means over 250 hours of talks.
Digital Business World Congress brings together inspiring speakers, global influencers and authorities, who discuss different roles, industries, and technologies from the current digital revolution perspective, being an ideal forum for executive leaders who want to understand the digital economy and new business models, to increase their leadership and learn how to successfully implement digital strategies in their organizations.
Tech Series at #DES2023
Technologies that are changing the fundaments of business
This year at DES we will hold seven Tech Series, sessions dedicated to the influence of the most important technologies nowadays on the modern business world. Join them to discover how such technologies as Artificial Intelligence, Big Data & Analytics, Blockchain, Cloud Computing, Cybersecurity, Internet of Things, Virtual Reality or Augmented Reality can impact your organization and make it grow.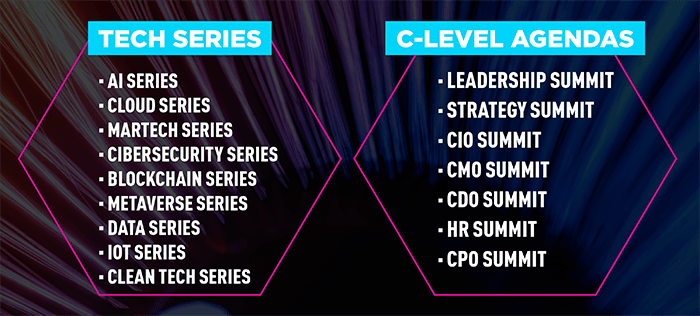 C-level Agenda