Speaker
Rafael Garcia Hernandez
Position:

Cyberspace Commander
Company:
Estado Mayor de la Defensa de España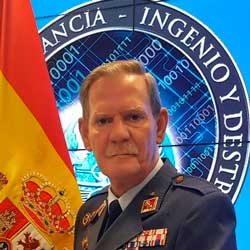 General garcia hernandez, commander of the joint command of cyberspace, formerly of cyber defence, has a long military career since he graduated from the general air academy in 1983. He has served in various posts, including the 78th wing, the general air academy and the security and defence training centre as a teacher. Subsequently, he worked in the office of the Chief of the Air Chief of Staff, the NATO military headquarters in Mons, Belgium and the Spanish attaché's office in London, as well as various posts related to air defence, where he was head colonel of the central command and control group and head general of the command and control system of the Air Force. He is an interdiction controller and a graduate of the general staff, and holds various national and international decorations.