Speaker
Juan Díez Nicolás
Position:

Chair, Social Development and Director Centre for Research in Social Values
Company:
Universidad Camilo Jose Cela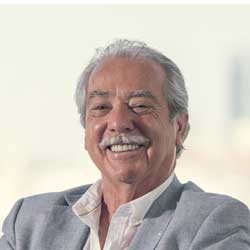 Member of the Spanish Royal Academy of Moral and Political Sciences, and European Academy of Arts and Sciences, Salzburg. Emeritus Professor Sociology, UCM. President ASEP. Director Chair for Social Development, and Centre for Research on Social Values, Camilo Jose Cela U. in Madrid. PI for Spain in international projects in the social sciences (WVS, ISSP, CSES,). Member of the EC of the WVSA. Was co-founder Public Opinion Institute, Founder Centre for Sociological Research. Member Free Emeritus College. Senior researcher Royal Institute Elcano. Regular lecturer Higher Centre of Studies in National Defence. National Award in Political and Economic Sciences, National Award in Political Science and Sociology CIS. Helen Dinerman Award WAPOR. Author of 36 books, more than 250 book chapters in academic and professional journals. He participated actively in the Political Transition to Democracy, holding different offices, in the governments of Adolfo Suárez.