Speaker
Ignacio Garcia Sanchez
Company:

Retired Navy Captain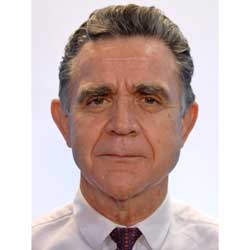 From 2018 to 2021, was the Operational Director of the National Security Department, Cabinet of Spanish Prime Minister. During the tenure his work on Hybrid Threats with the EU and NATO was recognized to be awarded with the NATO Serge Lazareff Prize.
From 2009 to 2018, was the deputy director of the Spanish Institute for Strategic Studies. He started in 2011 a new annual collection of publications, The Geopolitical Overview of Conflicts, and led a project to the publication of: "Panorama of Geopolitical Trends: Horizon 2040".
Previously he worked during six years in NATO, at the Allied Transformation Command Headquarters in Norfolk (USA).
He commanded a Submarine and was professor of Operations and Strategy in the Naval War College and the Center for Higher National Defense Studies (CESEDEN).
He is a usual speaker and has different decorations. The last one was the "Encomienda" of the Royal Order of Carlos III, the most important decoration of a civil nature awarded by King Felipe VI.