---
AI and Debiasing Algorithms: Fair ML and inclusive
16/06/2022
15:30 - 16:00

Comparte esta sesión:
As machines are trained to analyze complex problems, many tasks that previously required human intelligence are now either assisted or fully automated through Artificial Intelligence (AI).
Increasingly, machine learning algorithms are used to predict behavior and classify people, for example in the field of human resources.
At the same time, society has realized that algorithms are not perfect.
Everywhere, concerns are rising that AI-generated decisions may lead to discriminatory actions against protected groups.
Often, algorithms reproduce or even amplify biases present in human decisions.
In some cases, they even inadvertently create new discriminatory outcomes.
POWERED BY: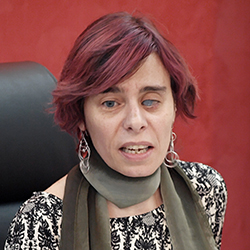 Virginia Carcedo Illera
Secretaria General y Directora de Transformación y Excelencia
Fundación ONCE